Related Videos
Available from Visionary Video Films. See above link.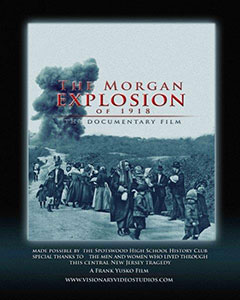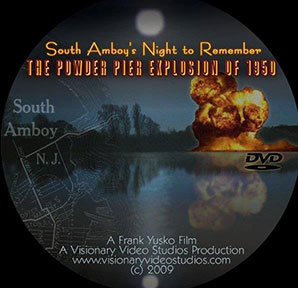 Gallery
Click on a picture to see the larger version. Below them is a list of their captions, which can also be accessed by clicking on the numbers next to each picture.
CAPTIONS (l-r, from top left.)
Young Albert Heim holding his cousin, Marie Therese, in their backyard at Milltown. Appears to be dated June 13, 1912.
Albert with uncle Jean Baptiste Bourgade, holding Marie, same date. Note the outhouse in neighboring yard, so possibly no running water.
Albert Heim was teased at school for his European clothes and accent. See taped interview of Mrs. Farley here. Here he's again holding his cousin Marie, in a photo that appears to be dated January 19, 1913.
Newspaper clip from the New Brunswick Sunday Times, Feb. 3, 1918, trumpeting Mr. Heim's stint as a bugler.
Albert with his cousin, in Milltown, NJ. Note that the side streets of Milltown were unpaved and the sidewalks were wooden.
The house in Milltown where Albert Heim first lived, in the earliest photo we have, dated January, 1912.
This is thought to be a United States census record, translated into French, on which he is listed second from bottom, as "Adalbert" Heim.
He learned to play piano "by ear," his family has said. This photo appears to be from his teenage years.
A view of the Michelin plant in Milltown at which Albert Heim worked. Albert's uncle was the plant's foreman.
Here is a newspaper story on his receiving the St. George Award, the highest honor bestowed by the Boy Scouts of America, for his service.
Albert Heim is at right in this photo, with WWII vet Adam Rzepka. Likely before a Memorial Day parade. During WWI, Adam Rzepka worked at the T. A. Gillespie Shell Plant in Morgan, NJ.
Albert Heim, age 93, on the evening of his oral history interview with the Spotswood High School History Club.
Albert Heim's uniform in a display case at Spotswood High School. Against the back is the plaque noting the award established in his name for the school's outstanding history student. The History Club successfully petitioned the Department of Veterans' Affairs to award him the WWI 75th Anniversary Medal posthumously, and it is proudly displayed in the lower right-hand corner of the display case.
A copy of the award established in his name for Spotswood High School's outstanding history student.
Tree with marker dedicated to Albert Heim at Spotswood's WWII commemorative community park. The park was a service project of the Spotswood High School History Club.
In 1983 Mr. Heim's grandchildren (The Nappis) traveled to France to visit with this daughter of the French relatives he lived with in Milltown, NJ prior to the start of WWI.:
Photos taken during the Spotswood High School History Club Officers' visit with Mr. Heim in the Spring of 1991.:
Left to right: Frank Yusko and George Francy presenting the story of Albert J. Heim to the South Amboy Historical Society. To their left are Mary and Phyllis Nappi, Mr. Heim's daughter and granddaughter.